The farm CAVENDO TUTUS is inside the GRA (Grande Raccordo Anulare) in Via della Pisana 950.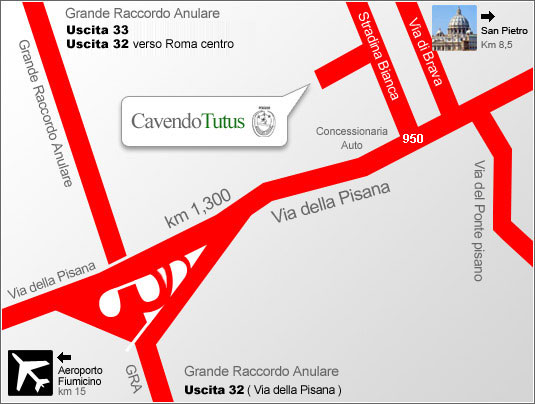 By car
From the highway take the G.R.A. with direction Fiumicino Airport and exit 32 (previously it must be channeled in a lane parallel to the fitting which includes outputs 30-31-32-33 for those coming from the south and 33 to 32 for those coming from North).
Exit towards Rome center and routes 1300 meters, at number 950, take the country road on your left and follow the signs..
By train
From Termini station take bus line "H" to the last stop and then take the bus line "808" to number 950 of Via della Pisana.
By plane
Dall'aereoporto Leonardo da Vinci di Fiumicino.
Ogni mezz'ora parte un treno diretto a Roma Termini (da lì seguire le indicazioni sopraelencate vedi in treno); in taxi il costo è di circa 40€ e il tempo di percorrenza è di circa 15 minuti.
From Ciampino airport
Take the bus to Anagnina station, then take the subway "A" to Termini and then follow the above directions (see by train); taxi the cost is about 40 € and the journey time is approximately 20 minutes. 
Alternatively you can contact us. Our structure is at your disposal to arrange your transfers.